Acne Scar Treatment with Aerolase NeoClear in Bloomington, MN
NeoClear by Aerolase® is a comfortable, non-invasive procedure that addresses the causing factors of acne. The effects of this energy device minimize and prevent breakouts while also creating clear and radiant skin.
One Agora Integrative Health uses NeoClear to treat patients with all types of acne in half-hour sessions. Patients enjoy results like reduced pain and inflammation and improved skin texture.
Prescription medications are not the only solution to acne. Why use several skincare options when you can do it with Aerolase® NeoClear? Bloomington, MN, is home to One Agora – call (952) 234-5898 or contact us online to have your acne treated today.
What is NeoClear?
NeoClear by Aerolase® is a powerful acne treatment. It uses advanced 650-microsecond technology™ to project laser energy into the acne and skin layers. This energy treats breakouts on the face, neck, chest, or torso. It removes factors that cause acne – sebum production, inflammation, and P. acnes bacteria.
How does NeoClear work?
Inflammation and acne (in that order) occur when excess sebum (oil) and dead skin clog skin pores, causing P. acnes bacteria to accumulate in the sebum.
NeoClear's energy:
destroys P. acnes bacteria
shrinks sebaceous (oil) glands
reduces oil production
clogs blood capillaries to reduce inflammation
encourages collagen production
Who is a good candidate for NeoClear?
NeoClear is effective, tolerable, and safe for patients of all skin types and ages. It is especially beneficial for patients who are looking for a cost-effective, non-prescription solution to acne.
NeoClear can treat all kinds of acne, such as papules, comedones like whiteheads and blackheads, and cystic acne.
Your NeoClear treatment
Before your appointment, wash your skin with a cleanser. You will not need any anesthetic or skin cooling. The device will not even have to touch the skin.
NeoClear is performed in two steps. The energy is first applied to the affected area to destroy P. acnes bacteria, improve skin texture, and prevent future acne. In the second step, the energy is focused on specific acne to reduce inflammation. Your skin may feel mildly-warm during the treatment.
Your NeoClear treatment will take about 20-30 minutes, depending on the body area being treated and the severity of your acne. There are no side effects or downtime.
Most patients require 4-6 sessions to resolve their current acne. We will discuss with you how many sessions you'll need.
What results can I expect from NeoClear?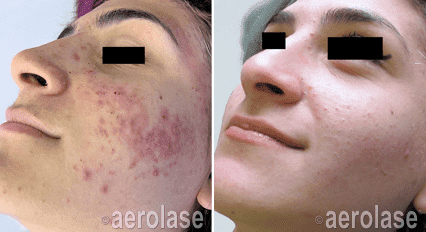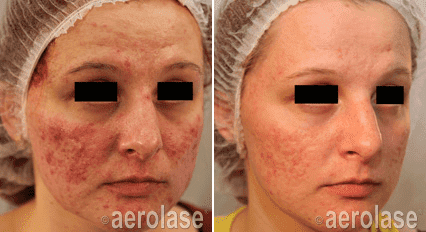 You can return to your normal activities immediately after your session. Your skin may slightly redden, though it will fade a few hours. One Agora specialists will elaborate on your aftercare details, such as how long to avoid direct sunlight and wear sunscreen.
You may see noticeable results after just one treatment. Most patients see results after three treatments and improved results with each following session.
The long-term effects of NeoClear include:
reduced skin redness, inflammation, pressure, and pain
improved appearance of scar tissue and skin texture from new collagen
reduced chance of future breakouts as a result of lowered oil production
You may require future sessions to control future breakouts. The results of NeoClear can last for months to years depending on your skin type, hormones, and other factors.
Request Your Appointment Today!
For acne and acne scar treatment, Bloomington, MN, is where you can find NeoClear by Aerolase®. Begin your non-invasive procedure with One Agora today by calling (952) 234-5898 or contacting us online.
---
Our Location
One Agora Integrative Health Clinic
9220 James Ave S.
Bloomington, MN 55431
Phone: (952) 234-5898
Integrative medicine clinic serving patients in Minneapolis, Bloomington, Richfield, Edina, Eden Prairie and the surrounding Hennepin County, Minnesota communities.