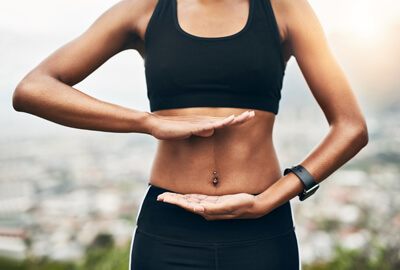 BTL Vanquish ME is a non-surgical energy device that permanently destroys subcutaneous fat cells across the entire abdominal area. It is painless, contactless, has no downtime, and targets larger areas of the body compared to other fat removal procedures.
One Agora Integrative Health uses this protocol as a non-surgical method to create a slimmer appearance. By the end of 4 treatment sessions, some patients see a reduction in their waist's circumference by several inches.
For minimally invasive body contouring, Bloomington, MN is the place to go, no matter what your BMI (Body Mass Index). Schedule your consultation with a BTL Vanquish ME non-invasive fat removal specialist today at ☎ (952) 234-5898 or contact us online.
What is BTL Vanquish ME fat removal?
BTL Vanquish ME is a non-invasive radiofrequency treatment. It is FDA-approved to use energy to reduce the circumference of the thighs and abdomen. The radiofrequency energy is administered to your adipose (fat) tissue. The energy heats and destroys your fat cells within the tissue.
How does BTL Vanquish ME fat removal procedure work?
The BTL Vanquish ME is a relaxing, once-a-week procedure. During your session, you will lay on your back as the device painlessly applies the energy to the treatment area via panels.
The energy heats the adipose tissue between your skin and muscles to about 44°C. The high temperature causes the fat cells to shrink. In time, the heat causes your fat cells to die and eventually disappear.
You may feel a slight warmth during your procedure. Your skin and muscles will not be heated to the same high temperature due to the moisture within them.
Your session will last approximately 30-45 minutes, depending on the body areas being treated. For example, thighs take about 30 minutes to treat, while the abdominal area takes about 45 minutes.
The BTL Vanquish ME has no down-time. You can return to your daily activities immediately after your session.
Who is a good candidate for BTL Vanquis ME fat removal?
BTL Vanquish ME can be used for any patient with any BMI who's looking for non-surgical fat removal.
This no-contact device may be used to destroy the fat cells in the:
abdomen
flanks
inner thighs
outer thighs
saddlebags
legs
How many treatments do I need?
Most patients will undergo 4 treatment sessions; one session per week. Our One Agora specialists will work with you to determine how many sessions you need to reach your desired results.
What results can I expect and how fast will I see results?
You may see results within 3 weeks after your first session, though full results may take a few months to appear. Your results will depend on your BMI and other factors.
You may experience a warm sensation, swelling, or redness on your skin for a few hours after your treatment session. Tender, inflamed skin may appear and last for several days.
Request Your Appointment Today!
Improve the appearance of your midsection today! Call our Bloomington, MN location at ☎ (952) 234-5898 or contact us online to schedule you consultation.
---
Our Location
One Agora Integrative Health Clinic
9220 James Ave S.
Bloomington, MN 55431
Phone: (952) 234-5898
Integrative medicine clinic serving patients in Minneapolis, Bloomington, Richfield, Edina, Eden Prairie and the surrounding Hennepin County, Minnesota communities.