Chiropractic Services for Chronic Pain in Bloomington, MN Natural Pain Solutions for Musculoskeletal Conditions, Trigger Points, and Low Back Pain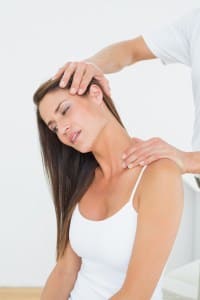 Finding natural relief for chronic pain can be a frustrating journey. Perhaps you have tried traditional medicine or other alternative treatments, but you are still experiencing widespread pain throughout your body.
At One Agora Integrative Health Clinic in Bloomington, MN, we take a holistic approach to aid the body in healing itself back to an optimal state. Our mission is to provide safe and effective pain solutions through proven chiropractic techniques to help alleviate your discomfort from musculoskeletal conditions, trigger points, and chronic low back pain.
Call today and schedule your first consultation if you are looking for pain relief and have yet to find a chronic pain specialist who leads with compassion and ultimately will get to the bottom of your discomfort.
Call (952) 234-5898 or contact us online.
---
Chiropractic Care
---
Effective and Natural Pain Solutions
Chiropractic care provides gentle, non-invasive solutions for patients who have tried everything else to alleviate pain.
Our team of chiropractic specialists at One Agora focus on the structure of your body, ensuring everything is in alignment to improve function and relieve pain. Through spinal manipulation and innovative treatment modalities, we are able to restore mobility and promote optimal health and well-being.
When your skeletal structure is out of alignment, you feel it. Bringing back alignment in your spine allows us to restore communication throughout your nervous system, which will trigger your body's natural ability to heal itself.
Working with a licensed chiropractor at One Agora is one of the best things you can do for your health to heal your body without surgery or medications.
Chiropractic Care for Musculoskeletal Conditions
Chiropractic care can help resolve symptoms of musculoskeletal conditions and has been pivotal for many of our Bloomington, MN patients to help reduce pain.
Our patients often leave our clinic with a new sense of hope, knowing they are in the right hands.
Through spinal manipulation and mobilization, we are able to jumpstart the healing process. Our chronic pain clinic focuses on non-invasive holistic, long-term solutions instead of quick fixes to help you have a pain-free life.
If you suffer from any of the following conditions below, our chiropractic services at One Agora may be just the answer you've been looking for.
Fibromyalgia
Carpal tunnel syndrome
Scoliosis
Herniated Disc
Arthritis
Lower back pain
Sciatica
Tendonitis
Bone fractures
Rheumatoid arthritis
Headaches
If you have any questions about how chiropractic care can help your musculoskeletal condition, reach out and speak with one of our Minnesota licensed chiropractors.
Call (952) 234-5898 or contact us online.
Trigger Points and Chronic Low Back Pain
We also take a comprehensive look into what is causing your pain.
A trigger point is an area of scar tissue in the muscle due to an injury. Trigger points are often painful when touched and can feel like a nodule. This may be present for years until addressed and may be the cause of your chronic pain.
At One Agora health, we have successfully treated many patients suffering from trigger points as well as low back pain. By conducting a thorough exam, primarily focusing on trigger points, we are able to create a tailored treatment plan for your specific needs.
Benefits of Chiropractic Services
Chiropractic care has been a natural pain solution for over 100 years, proving to be an excellent treatment option for those seeking alternative solutions.
At One Agora Integrative Health in Minnesota, we strive to help patients struggling to find natural, non-invasive treatment options for chronic pain and musculoskeletal conditions.
Many of our patients have discovered the remarkable benefits of chiropractic care and now enjoy life with less pain. Below are just a few of the profound benefits of utilizing chiropractic care for your health concerns.
Targets joints
Long-lasting results
Lowers inflammation
Non-invasive and drug-free
Helps improve posture
May enhance athletic performance
Eases symptoms of musculoskeletal conditions
Improves immune function
Lowers blood pressure
Improves digestion
Provides neck, back, and muscle pain relief
Schedule Your Appointment Today!
It's time to leave pain in the past and rediscover what it feels like to feel good again.
Our team at One Agora is ready to guide you through this evolution. We lead with compassion and strive to provide a safe healing environment for all of our patients in Bloomington, MN.
To speak with an experienced chiropractor who specializes in chronic pain, call today to schedule your first appointment.
Call (952) 234-5898 or contact us online.
SCHEDULE NOW
---
Our Location
One Agora Integrative Health Clinic
9220 James Ave S.
Bloomington, MN 55431
Phone: (952) 234-5898
Integrative medicine clinic serving patients in Minneapolis, Bloomington, Richfield, Edina, Eden Prairie and the surrounding Hennepin County, Minnesota communities.