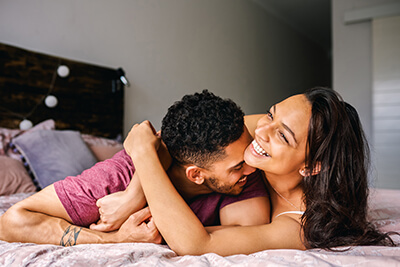 How to Improve Your Sexual Health with Compounded Prescriptions
As we move through life, our bodies change. Sometimes we notice these changes and sometimes we don't. These changes can impact all areas of your life – your relationships, hobbies, and sometimes even your sexual health. Some common sexual health changes can include:
A lowered libido or sex drive
An inability to get aroused
Reduced sensation
Difficulty achieving orgasm
Pain during intercourse
Erectile dysfunction (for men)
Even just one of these is enough to knock down your confidence and make intimacy not as fun or pleasurable. Perhaps you've tried over-the-counter medication, supplements, or creams for your sexual health concerns. But nothing seems to help.
At One Agora Integrative Health, we've helped individuals and couples move from frustration to fulfillment in the bedroom. We do this by providing compounded prescriptions that boost sexual performance and bring excitement back into your most intimate moments.
What Are Compounded Prescriptions and How Can They Help My Sexual Health?
Pharmaceutical compounding has been around for quite some time, and it's continuing to grow in popularity. One of the reasons it sparks the interest of patients is that compounding is all about creating custom, individualized medication.
When it comes to prescriptions, everyone responds differently, and some may not be able to take commercially created medications. This is where compounded prescriptions are true lifesavers. From the formula to the dose to the flavor, compounded prescriptions are individually crafted to meet your unique needs.
And when it comes to sexual health or sexual dysfunction, we know that personalized care matters. That's why we at One Agora Integrative Health partner with a local compounding pharmacy to provide customized solutions that help you with exactly what you're experiencing.
Compounded Prescriptions at One Agora Integrative Health Clinic
We offer four main compounded prescription options – either as a standalone service or alongside other therapies. They include:
Oxytocin
Known as the "love hormone," oxytocin is linked to orgasm intensity and is released during sexual activity. Unfortunately, some people aren't able to release enough, which can prevent them from being fully engaged. Using a compounded prescription of oxytocin can increase orgasm intensity, contentment after sexual activity, and higher levels of sexual satisfaction.
PT-141 peptide.
Often hailed as an effective alternative to Viagra or Cialis, PT-141 helps men with erectile dysfunction (ED) or impotence and is beneficial for premenopausal women with a low or no sexual desire. It does this by working within the brain to influence sexual desire, increase libido, and improve sexual satisfaction.
Compounded alternatives for ED.
Treating ED is not a one-size-fits-all solution. This is why compounding pharmacies have become a staple part of healthcare for men experiencing ED. Not only can compounded prescriptions offer higher-strength doses, but they can also even create a combination approach that targets multiple aspects of ED.
Arousal creams.
Lovingly called "scream creams" by raving fans, arousal creams are applied topically to external genitalia, such as the clitoris. Because this medication increases blood supply to the area where it's applied, women who use it report increased sensitivity, and it improves their chances of reaching orgasm.
Because compounded prescriptions aren't a one-size approach, our practitioners at One Agora Integrative Health Clinic go the extra mile to understand your health needs and create customized treatment plans that address your concerns and help you reach your sexual health goals.
Contact One Agora Integrative Health Clinic for Your Sexual Health Concerns
The best way to find out if compounded prescriptions for sexual health are a good fit for you and your lifestyle is to schedule a consultation. Call our Bloomington, MN clinic at (952) 234-5898 or send us a message.
We look forward to hearing from you and helping you reclaim your sexual health!
---
Our Location
One Agora Integrative Health Clinic
9220 James Ave S.
Bloomington, MN 55431
Phone: (952) 234-5898
Integrative medicine clinic serving patients in Minneapolis, Bloomington, Richfield, Edina, Eden Prairie and the surrounding Hennepin County, Minnesota communities.