Detoxification Pod

There is no better way to detoxify the body than through sweating, increased body temperature and lymphatic movement. You can now accomplish all three with our detoxification pod.
Experience the Power of Fitness & Wellness!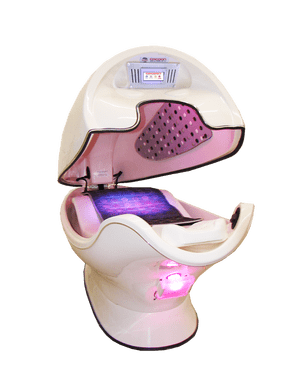 DRY HEAT SYSTEM
Adjustable from room temperature to as high as 194 degrees F. Sauna sessions can increase your core temperature. Thermo-wellness contributes to wellness benefits including:
Stress and weight management programs;
Improvements in tone, strength and flexibility
Relaxation, Improved mood
Radiant HEAT SYSTEM
Integrated Radiant heat can be used separately or together with dry heat feature for optimal body heating benefits.
FULL BODY/DUAL WAVE POWERED VIBRATION MASSAGE
Synchronized dual vibration transducers, activated and controlled via the touch screen user interface, enable you to select the desired location and intensity of massage vibration. Choose from light touch to deeply penetrating massage while targeting the lower, upper or whole body for invigorating and relaxing benefits.
FITBED SYSTEM:
The integrated FitBed™ System includes two different resistance levels of elastic tubing and handles for easy attachment to the foot of the Cocoon bed. The FitBed System enables you to conveniently include Active Fitness Exercise with your Cocoon POD sessions and experience the benefits of High Intensity Interval Training.
HIMALAYAN SALT AIR SYSTEM:
The Cocoon Wellness Pro features an integrated delivery system enabling you to experience Himalayan salt for refreshing air.
Call today to find out more and schedule your session. (952) 234-5898.
---
Our Location
One Agora Integrative Health Clinic
9220 James Ave S.
Bloomington, MN 55431
Phone: (952) 234-5898
Integrative medicine clinic serving patients in Minneapolis, Bloomington, Richfield, Edina, Eden Prairie and the surrounding Hennepin County, Minnesota communities.