Shaped like a chair, the BTL Emsella uses electromagnetic energy to treat urinary incontinence, including urge incontinence (urine loss at unexpected times) and stress incontinence (urine loss from physical activity). This non-invasive device strengthens pelvic floor muscles and helps patients regain control over their bladder.
One Agora Integrative Health uses the Emsella device to help women of any age improve their lives. Indeed, incontinence occurs more often in women than in men and can result from childbirth that stretches and weakens the pelvic floor muscles.
All it takes is one painless, 30-minute session to tense these muscles, and patients see immediate results that improve with each session. Discover how this non-invasive treatment in Bloomington, MN, has helped raise so many women's self-esteem.
Call (952) 234-5898 or contact us online to schedule your first session today.
What is BTL Emsella?
BTL Emsella, also known as the Kegel Throne, is an FDA cleared device used to treat urinary incontinence in women. It non-invasively administers energy into the pelvic floor muscles which helps patients regain neuromuscular control and restore weak muscles.
Emsella
How does Emsella work?
The BTL Emsella uses high-intensity focused electromagnetic technology (HIFEM). HIFEM produces an electromagnetic field that triggers the pelvic floor muscles' motor neurons.
The resulting contractions tighten and strengthen the pelvic muscles. These contractions are similar to Kegel exercises but more powerful. One Emsella session is comparable to approximately 11,000 Kegels.
Your Emsella treatment
Before starting your BTL Emsella treatment, tell the One Agora specialists of your current medical history, as well as if you are currently menstruating.
You will leave your clothes on throughout the entire visit. Sitting on the Emsella device is as if you would sit on a chair. You can relax as the electromagnetic waves work on your entire pelvic floor area. It's common for patients to read during their sessions.
Your session is painless but you may experience a tingling sensation as your pelvic floor muscles contract (tighten) thousands of times during the session.
Your BTL Emsella session will last 30 minutes or less. There is no downtime and you can resume your normal daily activities right after your session is over.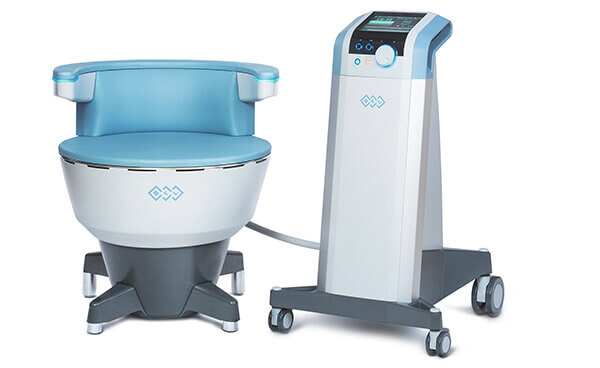 How many sessions do I need?
You will likely need three weeks of treatment, two sessions biweekly, for a total of six sessions. Our One Agora specialists will discuss with you how many sessions you'll need.
What results can I expect?
You will notice results after your first session. The results will continue to improve with each subsequent session.
Women who used Emsella have experienced:
reduced urine dribbling and leaking
increased likelihood of reaching the toilet
reduced reliability on pads
increased ability to engage in physical activity like jumping
improved sleep from fewer nightly incidents
improved confidence
Are there any side-effects?
There are no side effects to the BTL Emsella treatment.
Request Your Appointment Today!
Treat urge and stress incontinence at One Agora. Call (952) 234-5898 or contact us online to begin your BTL Emsella sessions today.
---
Our Location
One Agora Integrative Health Clinic
9220 James Ave S.
Bloomington, MN 55431
Phone: (952) 234-5898
Integrative medicine clinic serving patients in Minneapolis, Bloomington, Richfield, Edina, Eden Prairie and the surrounding Hennepin County, Minnesota communities.