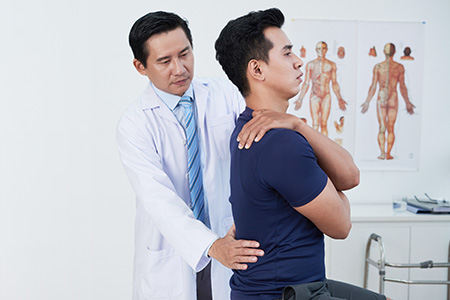 Natural Restoration and Regeneration for Deeper Healing at One Agora Integrative Health
So many individuals live with pain on a daily basis, and perhaps you are one of them. You may be so used to pain that you have forgotten what life is like without it. Are you ready to remember?
At One Agora Integrative health, we utilize holistic therapies such as homeopathic injections that have been proven to successfully treat pain. We want you to get back to a pain-free lifestyle, and we are confident we can get you there.
To learn more about our holistic pain management treatment options, call to speak with one of our homeopathic pain specialists today.
Please call (952) 234-5898 or contact us online to schedule your first appointment!
What are Homeopathic Injections?
Homeopathic medicine has been around for centuries. It is based on the idea that "like cures like," meaning when you introduce a little bit of the same substance that causes the symptoms, it treats or cures it. Recent studies have indicated that homeopathy is a safe and effective remedy to heal pain-related conditions.
At One Agora Integrative Health, we use Homeopathic Injections to treat chronic pain or sports-related injuries. Instead of treating pain with cortisone or anti-inflammatory medications, we successfully treat and heal patients in the Bloomington area dealing with pain conditions using a holistic whole-body approach.
Our treatments are gentle, therapeutic, and successful for patients suffering from chronic pain and injuries.
What do Homeopathic Injections treat?
Homeopathic Injections are a leading treatment option for pain at our Bloomington pain management clinic due to the vast conditions and treatment areas they can successfully treat.
Our team of orthopedic professionals will work with you to get to the source of your pain and find a healing modality that is best for your condition. If you have an injury or orthopedic condition that is causing you pain but have yet to find healing, Homeopathic Injections are an excellent option for you.
Arthritis of the shoulder, elbow, wrist, hip, lower back, knee, and ankle
Tendonitis of the shoulder, wrists, elbow, hip, knee, and ankle
Sports injuries
Chronic joint pain
Chronic lower back pain
Sciatica
Recovery and pain after surgery
Bursitis of the knee, shoulder, hip, and ankle
Trauma
Ligament, tendon, and muscle tears
Sprains and strains
If you are suffering from any kind of pain or, more specifically, one of the conditions above, call today and speak with one of our pain specialists. Unlike other doctors, we get to the source of your pain and make sure to find you the relief you have been looking for.
Please call (952) 234-5898 or contact us online to schedule your first appointment!
What Homeopathic Injections do we use?
At One Agora Integrative Health, we provide our patients with the best possible treatment options for pain that are high quality, extremely safe, and proven to work. Below are a few of our top homeopathic injections for pain and healing.
Traumeel Injections
Homeopathic Injection made up of botanicals and mineral extracts that naturally reduce inflammation in joints. Traumeel is an excellent option for athletes who want to speed up their recovery time. Additional Traumeel is used for post-recovery from a procedure.
Lymphomyosot Injections
Homeopathic injection used to reduce swelling due to environmental toxins, injuries, and or poor circulation.
Procaine Injections for Pain
Injection for muscle and ligament pain typically used for treatment of osteoarthritis and rheumatic conditions. Procaine enhances the strength of collagen and connective tissue and dramatically reduces pain.
What are the benefits of Homeopathic Injections?
We see many athletes who are looking for optimal results, as well as individuals searching for pain relief from orthopedic conditions. Our patients experience profound healing results and love the benefits of our homeopathic injection treatments.
Healing without side effects
Prevent injury and recover faster
Naturally, reduce inflammation
Safe and effective long-term solution
Little to no downtime
Advance post-operation healing
Naturally, restore and regenerate at the cellular level
More profound healing compared to masking with cortisone or pain pills.
Request Your Consultation Today!
Are you ready to live without pain again? We look forward to treating your pain or helping you recover from a sports injury.
One Agora Integrative Health is one of Minnesota's top pain management clinics, treating individuals with many pain-related health conditions. We want to help you heal faster, safer, and more effectively so that you can reach optimal performance and pain-free living. We won't stop until you find relief.
Call (952) 234-5898 or contact us online to schedule your first appointment today!
---
Our Location
One Agora Integrative Health Clinic
9220 James Ave S.
Bloomington, MN 55431
Phone: (952) 234-5898
Integrative medicine clinic serving patients in Minneapolis, Bloomington, Richfield, Edina, Eden Prairie and the surrounding Hennepin County, Minnesota communities.