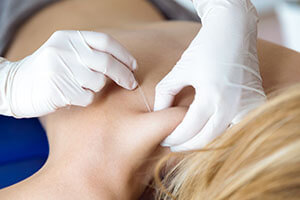 Who hasn't struggled with pain and inflammation at some point? Many desperate people turn to NSAIDS (which many are sensitive to), corticosteroids, drugs like opioids and many new "designer drugs" coming onto the market. There's plenty of media coverage about what that can lead to. That's why more and more Americans are looking for natural pain relief.
At Agora Health, chronic pain management means working toward eradicating the root cause, not just masking your symptoms. We've successfully treated hundreds of pain patients with homeopathic injection therapy, which brings your whole body into balance so it can heal itself.
By injecting strategic doses and combinations of medical botanicals and minerals, we evoke a healing response in your body which enables it to gradually resolve its own symptoms. After many years of research and healing hundreds of patients, we're narrowed down our solutions to the top most effective: Traumeel, Lymphomyosot, and Zeel injections.
To experience your own before-and-after pain relief case study, make your appointment today by calling our pain treatment specialists at (952) 234-5898 or contact us online.
What can Injection Therapy do for me?
One Agora injection therapy resembles trigger point injections, only it delivers homeopathic natural anti-inflammatory supplements in complex solutions directly to your bloodstream.
Most of our patients request injection therapy for musculoskeletal imbalances like:
chronic joint pain (in neck, back, knee, elbow, etc)
arthritis
tendonitis
sprains or strains
plantar fasciitis
acute or chronic muscle spasms
acute headaches/migraines
menstrual cramps
digestive pain
inflammation
lymphatic congestion
Our pain management specialists will customize a treatment plan to help regulate your inflammation, reduce your pain, and increase the range of motion in your muscles and joints.
How does Injection Therapy work?
The pain specialists at One Agora will examine you and review your medical history before determining whether you could benefit more from trigger point injection (about ½ - 1 inch directly into hard, knotty muscles) or from neural therapy (superficial injections into smaller muscles surrounding joints, discs, and organs).
They will offer a small amount of anesthetic to make sure you're comfortable during one of these 3 homeopathic injections:
Traumeel
This anti-inflammation, anti-edema, and anti-exudate pain relieving solution contains a combination of these botanical extracts in small amounts: belladonna, mountain arnica marigold, witch hazel, milfoil, deadly nightshade, monkshood, chamomile, comfrey, daisy, narrow-leafed cone flower, purple cone flower, and St. John's wort. It also contains a small amount of the mineral calcium sulfide.
Lymphomyosot
This solution provides temporary relief of swelling due to poor circulation, minor injury or environmental toxicity. It also helps improve your lymphatic drainage and non-specific immune defense. We've delivered it to resolve conditions like lymph node benign hypertrophy, chronic tonsillitis, tonsillar hypertrophy, and lymphatic edema.
Lymphomyosot contain 3 categories of ingredients:
botanical: horsetail, common fumitory, yellow gentian, Herb Robert, walnut, forget-me-not, watercress, scotch pine, wild liquorice, figwort, wood-germander, and common speedwell
mineral: tribasic calcium phosphate, ferrous iodide, and disodium sulfate
animal-derived: papal-cross spider and L-thyroxine (hog thyroid gland extract)
Zeel
This solution has been shown to reduce pain, stiffness and arthritic joint inflammation via immuno-modulation. Zeel inhibits the activity of the leukocyte elastase enzyme, which is released during inflammatory reactions and attacks your articular cartilage. Studies have also demonstrated that certain plant extracts contained in Zeel stimulate lymphocytes to release the transforming growth factor-(beta).
This solution contains 3 categories of ingredients:
botanical: mountain arnica, bittersweet, poison oak, blood root, and comfrey
mineral: sulphur, thioctic acid, coenzyme A, nadidum, and sodium oxalacetate
animal-derived: porcine cartilage, porcine embryo, porcine umbilical cord, and porcine placenta
Although One Agora has successfully treated patients with these injections alone, combining them with massage, chiropractic, acupuncture, medical nutrition, and exercise protocols will lead to faster, longer-lasting results.
Reserve your appointment
Why let pain disrupt your lifestyle and your life joy? Discover the power of injection therapy by calling the highly-skilled, compassionate pain experts at One Agora Health. Reach us at (952) 234-5898 or contact us online today.