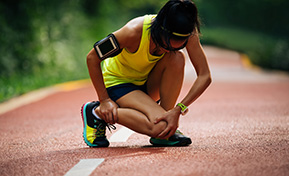 Tissue Regeneration Therapy at One Agora Integrative Health
Are you dealing with a sports injury or chronic pain? It's time to turn on your body's natural healing process. At One Agora Integrative Health in Bloomington, MN, we proudly offer tissue regeneration with SoftWave TRT. The only way to heal an injury is at the cellular level.
Stop the suffering and jumpstart the healing process with the software TRT in Bloomington, MN. To learn more about this innovative device with patented technology for tissue repair, call and schedule your appointment NOW.
Call (952) 234-5898 or contact us online.
What is SoftWave TRT?
The SWTRT is an FDA-cleared medical device used for tissue healing regeneration in sports injuries and chronic pain.
By applying high-energy sound waves to the injured area, SoftWave TRT jumpstarts healing at the cellular level to turn on your body's natural healing abilities. The applicator can treat a wide area penetrating deep into the tissue to stimulate stem cells and growth factors with a healing wave of energy. The results are profound, with the majority of our Bloomington patients reporting a drastic decrease in pain and an increase in mobility.
Unlike other devices used in sports medicine that do not penetrate the area with a TRUE SHOCK WAVE, the SoftWave penetrates a 7cm x 12cm area and is considered a TRUE SHOCK WAVE. Just another reason why we see such great results for tissue repair at our pain clinic in Bloomington.
What does SoftWave TRT treat?
SoftWave TRT at One Agora Integrative Health Clinic is ideal for individuals who suffer from a sports-related injury, degenerative condition, or chronic pain.
Perhaps you have tried injections, pain medication, or surgery in the past, leaving you unsatisfied with the results, or maybe you are looking to avoid these treatment options altogether. SoftWave TRT is a non-invasive treatment for any of the following conditions or treatment areas.
Chronic diabetic foot ulcers
Acute second-degree burns
Back Pain
Jumper's knee and any knee pain
Stress fractures
Shin Splints
Plantar Fasciitis
Overuse injuries
Non-Unions
Shoulder Pain
Scar tissue
Elbow, wrist, and hand pain
Osgood-Schlater
Hamstring pain
Fascial release
Hallux Rigidus
Achilles Tendinopathy
Morton's Neuroma
Acupuncture points
Diabetic foot ulcers
Peripheral arterial diseases
Venous leg ulcers
Pressure ulcers
Sports Injuries
Arthritis
Male Erectile Dysfunction (ED)
Male Sexual Health
Female Sexual Health
TMJ
Muscle Pain
The SoftWave TRT treats all of these conditions and so much more. If you are ready to experience the incredible healing benefits of sound wave technology, call today and speak with one of our sports injury specialists!
Call (952) 234-5898 or contact us online.
Why Treat an Injury with SoftWave TRT?
SoftWave TRT is the future of tissue regeneration due to the remarkable benefits it offers individuals healing from an injury or chronic condition.
Not only is SoftWave TRT one of the leading treatment options at our Minnesota health clinic, but it is also a trusted and top-rated technology used worldwide by professional sports teams, orthopedics, traumatology, wound care, aesthetics, and urology.
Patients experience the following after treatment.
Increased blood supply to the injury site
Reduced inflammation
Accelerated wound healing
The repair and regeneration of damaged tissue
Reduced acute and chronic pain
Additional Benefits of SoftWave TRT
FDA-cleared for activation of connective tissue
Non-invasive
Zero downtime
Cost-effective
A quick and painless treatment
No anesthesia needed
Fast recovery time and long-lasting results
Frequently Asked Questions about SoftWave TRT
How long does SoftWave TRT take?
Treatment sessions take between 10-15 minutes each.
How many treatments are needed?
Depending on your condition, the number of treatments you will need may differ; however, on average, only 6-8 treatments are needed.
What type of results can I expect?
You may experience a noticeable difference after one of two sessions with SoftWave TRT. Many of our patients report a drastic difference in their pain level after only one treatment.
What are the side effects of SoftWave TRT?
The SoftWave treatment causes virtually zero side effects allowing you to resume your normal day immediately after treatment.
Request Your Consultation Today!
At One Agora Integrative Health, we are excited by the results we see with SoftWave TRT. Our patients get better results and faster healing, further driving our mission to help individuals struggling with chronic pain and sports injuries.
No one wants to experience pain. And you certainly should not have to live with it. But, when you do, you know who to call. Call our team of pain specialists at One Agora and set up your consultation today!
Call (952) 234-5898 or contact us online.
---
Our Location
One Agora Integrative Health Clinic
9220 James Ave S.
Bloomington, MN 55431
Phone: (952) 234-5898
Integrative medicine clinic serving patients in Minneapolis, Bloomington, Richfield, Edina, Eden Prairie and the surrounding Hennepin County, Minnesota communities.