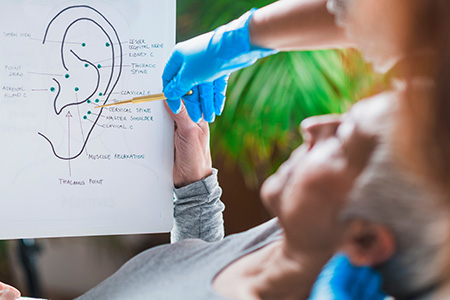 Effectively Reducing Allergies by 80 to 95% at One Agora Integrative Health
You know the familiar feeling when an allergy starts to act up. The constant frustration of symptoms or fear of an accidental exposure continuously prevents you from enjoying your life.
We see it too often at One Agora Integrative Health. Patients come into our allergy clinic in Bloomington, MN, desperately searching for allergy relief because they have yet to find it from traditional doctors and allergy treatments.
Allergies are some of the most common medical problems encountered in daily practices and, unfortunately, some of the most challenging problems to treat and eliminate.
The established Western medical treatment for allergies is both cumbersome and risky. Some acupuncture techniques offer various methods that may help attenuate the allergy symptoms and, at times, help eliminate the allergy symptoms for some period of time. However, very few patients find natural healing and long-term relief without working with a leading allergy expert.
At One Agora Integrative Health, we provide the top allergy treatment that has proven to eliminate allergies by 80-95%.
To learn more about Soliman Auricular Allergy Treatment or SAAT at One Agora Integrative Health, call today to speak with an allergy specialist today!
Please call (952) 234-5898 or contact us online to schedule your first appointment!
What is Soliman Auricular Allergy Treatment?
SAAT is a patented allergy treatment that has been proven to provide the most prolonged relief from allergy symptoms compared to any other acupuncture method. This newly introduced powerful technique is changing the lives of our Bloomington patients who suffer from allergies.
In clinical practice for several years, this technique offered unprecedented relief from allergies with no recurrence of the allergen treated. SAAT Technique is a one treatment with one needle approach resulting in permanent elimination of the allergy.
What does SAAT Treat?
If you suffer from allergies, you understand how debilitating they can be. And for severe allergies, these symptoms can be life-threatening. The SAAT technique is recommended for the treatment of all types of allergies, including environmental allergies, food, medications, and toxins.
Food allergies including but not limited to gluten/wheat, soy, dairy, corn, eggs, sugar, meat (alpha-gal), nuts, fruit, vegetables, shellfish, preservatives, and more.
Environmental/Home allergies: dog, cat, animal dander, dust and dust mites, mold, pollens, trees, grasses, weeds, poison ivy, and more
Chemical/Medication Allergies: Fragrances, cleaning products, perfumes, latex, aspirin, penicillin, and more
How does SAAT work?
First, our team of allergy experts will conduct allergy testing or a process of elimination to determine precisely which allergens are present. If you believe you are dealing with an unidentified food allergy, we will work with you to get to the bottom of your discomfort. This may include incorporating a food elimination diet or keeping a food log.
Once the allergen has been identified, we can move forward with SAAT, where we will find the exact acupuncture point in your ear where the needle will need to be placed.
For any particular allergen, the technique involves a one-time insertion of one needle in the ear that allows the elimination of the allergic reaction to that specific allergen. The treatment will also likely eliminate any cross allergies for that particular allergen.
Are you ready to ease symptoms of allergies or, better yet, completely eliminate them altogether? Call us today to see if SAAT is the right treatment for you!
Please call (952) 234-5898 or contact us online to schedule your first appointment!
What are the Benefits of SAAT?
Our allergy patients at One Agora Integrative Health love what it feels like to be allergy free and or significantly reduce their allergy symptoms. We know you will love the profound healing benefits of this remarkable treatment as well!
Simple and effective treatment
Minimum duration of treatment
Minimal side effects or complications associated
No medication needed
No more frequent visits to the allergist
Safe, noninvasive treatment
Proven to reduce allergies by 80-95%
Schedule your SAAT appointment today!
Allergies make life a little more complicated. Our team of caring allergy specialists is here to take the stress out of your day-to-day and help alleviate your discomfort from allergies. It's time to live symptom-free from frustrating allergies. Are you ready?
Call today to set up your consultation with a leading allergy specialist in Bloomington, MN. We are here for all of your allergy needs.
Please call (952) 234-5898 or contact us online to schedule your first appointment!
---
Our Location
One Agora Integrative Health Clinic
9220 James Ave S.
Bloomington, MN 55431
Phone: (952) 234-5898
Integrative medicine clinic serving patients in Minneapolis, Bloomington, Richfield, Edina, Eden Prairie and the surrounding Hennepin County, Minnesota communities.