Rebalance and Reboot Brain Health at One Agora Integrative Health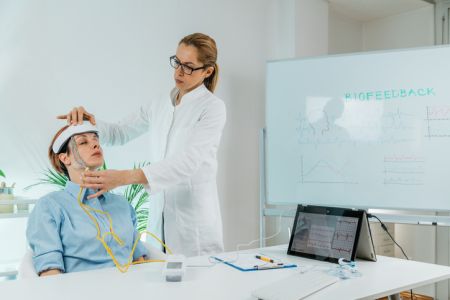 What if there was a way to naturally reboot your brain to treat common brain-related illnesses? Fortunately, modern science is so advanced that this type of treatment is a reality and a top non-invasive therapy option that we offer at One Agora Integrative Health in Bloomington, MN.
By utilizing groundbreaking technology such as IASIS Microcurrent Neurofeedback, we are able to improve countless lives of patients suffering from mental health challenges.
If you've been searching for answers long enough, we have a solution for you. Don't let mental illness or similar brain conditions steal your joy in living. Call NOW and speak with one of our brain health specialists to learn more about the profound benefits of IASIS Microcurrent Neurofeedback today.
Call (952) 234-5898 or contact us online.
What is IASIS Microcurrent Neurofeedback?
Life can be complicated, and some experiences are hard to shake. If left unaddressed, more tension and stress will build over time and leave a lasting impression on your body.
Everyday stressors and traumas affect your nervous system and often result in common conditions such as anxiety or depression. We utilize Microcurrent Neurofeedback to help patients get out of fight or flight and decrease the stress response in the brain.
Science shows that the brain can regenerate neurons and heal itself, but it needs a jumpstart.
IASIS Microcurrent Neurofeedback or MCN is a revolutionary FDA-registered EEG device that uses brain wave feedback to rebalance the brain.
By administering low-impact microcurrent stimulation to the brain and central nervous system, new brain waves are created, allowing the brain to reboot and restructure itself. When administered by one of our trained IASIS MCN providers, this simple procedure will enable us to improve brain function, support the central nervous system, and tap into optimal brain performance.
What does IASIS MCN treat?
IASIS MCN has been proven to reduce or eliminate abnormal levels of delta wave activity commonly seen in the brain of those suffering from anxiety, depression, PTSD, and other brain conditions.
At One Agora, we have helped many patients in the Bloomington area suffering from mental health struggles or other similar conditions.
IASIS MCN has successfully improved the following conditions in addition to those already mentioned.
ADHD/ADD
Academic performance
Anxiety
Addiction
Autism
Depression
Dementia
Chronic fatigue
Chronic pain
Depression
Epilepsy
Insomnia
PTSD
Learning disorders
OCD
Stroke
Brain injuries
Parkinson's
Migraines
If you have been diagnosed with or suspect you may have any of the conditions listed above, then IASIS Microcurrent Neurofeedback is a viable solution for you.
Our physicians take the time needed to accurately understand your health concerns in order to create a tailored treatment plan specific to your needs. Call today and set up your first consultation, the first step to ensuring a brighter, healthier future for you.
Call (952) 234-5898 or contact us online.
What are the Benefits of IASIS Microcurrent Neurofeedback?
Our team of mental health specialists has witnessed firsthand the astounding results that IASIS Microcurrent Neurofeedback has provided our Minnesota patients.
We proudly offer this gentle, natural neurofeedback therapy to our patients because of the benefits and proven results. Below are just a few reasons why this is a leading therapy option for mental health conditions.
Simple non-invasive therapy
Positive changes are seen within three sessions
Treats the root cause- not just symptoms
Safe and effective treatment for adults and children
Painless with no medication involved
Requires zero conscious effort from the patient
Faster results in a shorter time compared to other neurofeedback treatments
IASIS Neurofeedback Compared to other Neurofeedback Treatments
IASIS MCN therapy at One Agora has been a staple therapy in the Bloomington area, improving the lives of many and giving them back a sense of hope.
Unlike traditional neurofeedback devices, patients typically see results with IASIS MCN within the first three sessions. Patients are overcoming depression, OCD, ADHD, and regaining full cognitive function, among many other improvements. Treatments are quick and comfortable and allow you to remain relaxed during each session.
We understand how difficult and often lonely it can feel when dealing with mental health conditions or illnesses. This is why we strive to make sure every patient leaves our health clinic feeling better than before. We work with you to get you back to feeling your best so you can enjoy life again. Know this IS possible, and we are here for you every step of your healing journey.
Request Your Consultation Today!
Call today to speak with a leading mental health practitioner to learn more about IASIS MCN treatment in Bloomington, MN.
Call (952) 234-5898 or contact us online.
---
Our Location
One Agora Integrative Health Clinic
9220 James Ave S.
Bloomington, MN 55431
Phone: (952) 234-5898
Integrative medicine clinic serving patients in Minneapolis, Bloomington, Richfield, Edina, Eden Prairie and the surrounding Hennepin County, Minnesota communities.