What is Acupuncture?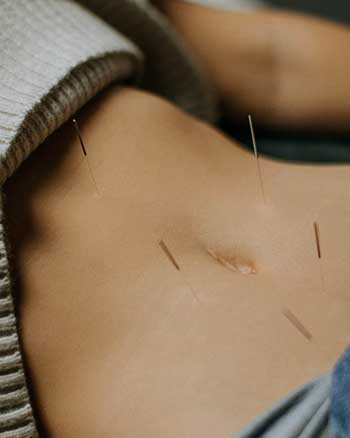 Acupuncture is a form of Chinese medicine that utilizes very fine needles to guide the flow of energy in the body. It has been used as a healing practice for thousands of years.
The purpose of the treatment is to restore energy and balance by needling specific points and locations on the body. The needles rarely hurt but some discomfort can occur with insertion.
Acupuncture can be used to help with many issues, including:
Muscular and skeletal concerns
Pain, chronic or acute
Anxiety & Depression
Headaches
Infertility
Menstrual concerns, such as cramps and irregular periods
Insomnia
Fibromyalgia
Plantar fascitis
Side effects from chemotherapy and radiation
Arthritis
Carpal Tunnel Syndrome
Hot flashes
Sinus concerns
Digestive concerns
Weight loss
Smoking Cessation
What to expect from an Acupuncture session?
Acupuncture sessions at our Bloomington, MN clinic usually last about 45 minutes to 1 hour.
Once the needles are in, most people don't feel anything. It is very relaxing for most individuals.
Other therapies may be incorporated in treatment, including electrostimulation, gua sha and food/herbal recommendations.
Acupuncture is most effective when used on a regular basis, usually 1-2 times per week starting out. Once the condition starts to improve, treatments can be spaced out for maintenance or as needed. Individual treatment plans are tailored to achieve the best possible outcome for each patient.
How much are the Acupuncture sessions?
First Treatment and Consultation (60 min): $125
Follow up treatment (45 min): $75
acupuncture packages:
3 sessions for $200
6 sessions for $350
10 sessions for $550
---
Cupping
Cupping is a therapy using glass or plastic cups to create suction on the surface of the skin. Cupping releases tension in muscles and increases circulation and lymphatic movement to promote optimal healing and detoxification. Cupping is great for athletes that want to speed up recovery time and is also an effective treatment for relaxation and releasing tension. Cupping causes bruise like marks and is not recommended for those who have bleeding disorders or are currently taking blood thinners. Marks from cupping usually go away within a week.
Cupping Cost: 30 min for $50
Cupping
---
Gua Sha
Gua Sha is a traditional Chinese modality that utilizes a flat massage tool to scrape the surface of the skin. "Gua" means to scrape and "Sha" refers to the redness or petechiae that appear on the surface of the skin during treatment. Oil is applied to the skin before treatment to reduce discomfort.
This treatment may be added to an acupuncture session to help break up fascia or stubborn scar tissue and promote an increase in blood flow to the area being treated. Gua sha can be used to relieve pain and tension in musculoskeletal conditions and release heat/inflammation from the body.
Gua sha leaves bruise like marks due to the leaking of small capillaries under the surface of the skin. These marks are temporary and usually disappear within a few days.
Gua sha is especially effective for treating plantar fasciitis and muscle tension. Gua sha is not recommended for those who have bleeding disorders or are currently taking blood thinners. Pain relieving CBD oil may be used at additional cost.
Facial Gua Sha
Facial Gua Sha is a gentler form of gua sha that is used on the face and neck to promote blood circulation, collagen production and lymphatic drainage. Facial oil is applied to the neck and face, then a jade gua sha tool is used to gently massage the face and enhance its natural contours.
Facial gua sha has become increasingly popular since there is no down time and patients usually notice the effects right away. The skin appears brighter and the face looks more sculpted due to excess fluids being pushed out of the face and into the lymphatic system. Regular treatment can improve hydration of the skin, detoxify and help to reduce the appearance of fine lines and wrinkles. Facial gua sha can also help to reduce headaches and jaw pain caused by muscle tension.
Since this technique is gentler than traditional gua sha, marks will not be left on the skin. Facial Gua Sha should not be administered over filler and patients must wait at least 2 weeks after Botox injections.
Gua Sha Cost: 30 min for $45
---
Facial Rejuvenation Acupuncture
Facial Rejuvenation Acupuncture treatment includes facial and body acupuncture with facial gua sha. Facial rejuvenation acupuncture uses specific points on the face and body to improve texture and color of skin, reduce fine lines and wrinkles, relax tense facial muscles, and improve overall health. Needling targeted areas of the face causes microtrauma that signals the body's immune system to bring blood and nutrients to the area for healing. The increase in blood flow helps to stimulate collagen production. Points on the body are used to correct imbalances and improve overall wellbeing for healthy looking skin. Incorporating gua sha into the treatment helps to flush excess fluids from the face. Facial rejuvenation acupuncture is also effective at treating TMJ, Bell's palsy and tension headaches.
Optimal results are achieved with a series of 10 or more sessions. Facial rejuvenation acupuncture is not recommended for patients with high blood pressure, frequent migraines, pituitary disorders, bleeding disorders, and heart disorders or a pacemaker. Patients receiving facial acupuncture must wait a minimum of 2 weeks after Botox®, 3 weeks after laser resurfacing, and 1 week after microdermabrasion.
Cost of Facial Rejuvenation Acupuncture: 60 min for $90

Facial Rejuvenation Acupuncture Packages:
6 sessions for $475
10 sessions for $750
Add ons:
---
Our Location
One Agora Integrative Health Clinic
9220 James Ave S.
Bloomington, MN 55431
Phone: (952) 234-5898
Integrative medicine clinic serving patients in Bloomington, Richfield, Edina, Eden Prairie and the surrounding Hennepin County, Minnesota communities.