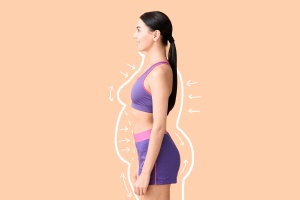 The latest statistics tell us that over 30 percent of adults in this country are overweight, while nearly half are obese, and close to 10 percent are severely obese. If you are struggling with Weight Gain, you are not alone. People generally try to go it alone – trying every fad diet or exercise regime to lose weight – but most individuals who are experiencing Weight Gain don't seek medical intervention from a Weight Gain specialist until years after the extra pounds first appeared.
Weight Gain is considered a medical condition, and its root causes must be diagnosed for successful treatment. Is your Weight Gain a result of thyroid disease? Or could it be a side effect of another medical condition or even a medication you started taking? Is it related to your hormones?
While the cause of Weight Gain may vary, it is clear that Weight Gain symptoms can be controlled through medical weight loss strategies - plus, there are emerging treatments that can have powerful results addressing Weight Gain.
If you are ready to address Weight Gain issues once and for all, call One Agora Integrative Health at (952) 234-5898 or contact us online today.
Symptoms of Weight Gain
The impact of Weight Gain symptoms can range from personal discomfort to severe disability. If you have Weight Gain, you may face any of these conditions or a combination of them:
High blood pressure
Diabetes
Stroke
Joint issues
Coronary artery disease
Abnormal menstrual cycle
Shortness of breath
Fatigue and lethargy
Shortness of breath
Cancer
Hormone imbalance
Hair loss or abnormal hair development
Chronic pain
General malaise
Gastrointestinal issues like bloating, gas, diarrhea, constipation or both
Swelling in the face or extremities
People who suffer from moderate to severe Weight Gain experience symptoms that impair their emotional, social, professional and economic well-being.
Weight Gain Causes
Many conventionally trained doctors assume that Weight Gain is simply a matter of eating too much and exercising too little. They will warn you that Weight Gain is a chronic condition that you'll need to manage for the rest of your life. In some cases that may be true, but it all depends on what is causing the Weight Gain. We have seen our patients resolve Weight Gain issues completely because we test, target and treat all root causes that are causing each patient's unique condition.
A wide variety of factors or conditions can contribute to or even cause Weight Gain, including:
Medication side effects (e.g., certain antidepressants, steroids, antipsychotic drugs, high blood pressure medications, etc.)
Specific medical conditions like Cushing's Syndrome, Hypothyroidism, Polycystic Ovary Syndrome (PCOS), some autoimmune conditions, blood sugar imbalance, etc.
Metabolic issues
Sleep issues, especially lack of sleep
Sudden or chronic stress
Poor diet, including excess consumption of processed foods with excess sugar and unhealthy fats
Aging along with the hormonal changes that come with menopause / andropause
Food allergies
Sedentary lifestyle
Exposure to toxins
Low muscle mass
Diagnosis and Testing
Your optimal weight is unique to you – and untangling the complex symptoms and causes of Weight Gain is not a simple process. It is our practice to test for all relevant conditions and target each condition with the appropriate treatments until your symptoms have been resolved.
If our diagnostic process determines a condition like Hypothyroidism is at the root of your weight gain, we will treat that condition and very often stubborn Weight Gain issues will resolve.
Proper diagnosis – along with a custom-designed medical weight loss plan - is the key to unlocking your struggles with weight.
Treatment Options
Along with the genes you inherited, a lifetime of nutritional choices, exercise regimens and your history of medical conditions has led to the current state of your weight. To reach your weight loss goals, we tap all treatment options, from medication and supplementation, to medical nutrition protocols and lifestyle management, as well as more novel treatment protocols that have been developed in recent years designed specifically to address Weight Gain issues.
Our weight loss specialists will provide you with a thorough examination, medical history review, and functional medicine metabolic testing. They will detect any underlying metabolic concerns that have gone undiagnosed – whether it's a subclinical thyroid imbalance that wasn't detected in traditional lab work, food allergy, insulin/blood sugar dysregulation, or a sex hormone dysfunction.
Only then, will they prescribe a unique protocol that may include nutritional and fat reduction packages, detoxification programs, nonsurgical body contouring, and/or body sculpting.
Our goal is to achieve your optimal weight, using a customized variety of treatment tools that may include:
Stress management
Healthy movement and exercise
Medical nutrition plan
Food allergy testing
Lifestyle modification specific to your symptoms and co-existing diagnoses
Reserve your appointment
Gather your symptoms and a history of your attempts to counter Weight Gain in the past, together with your treatment questions or requests – and we'll put together a customized plan to treat the root causes of your Weight Gain until you reach your ideal weight and are functioning optimally!
Call One Agora Integrative Health at (952) 234-5898 or contact us online today.
---
Our Location
One Agora Integrative Health Clinic
9220 James Ave S.
Bloomington, MN 55431
Phone: (952) 234-5898
Integrative medicine clinic serving patients in Minneapolis, Bloomington, Richfield, Edina, Eden Prairie and the surrounding Hennepin County, Minnesota communities.