Alleviate Pain and Restore Mobility at One Agora Integrative Health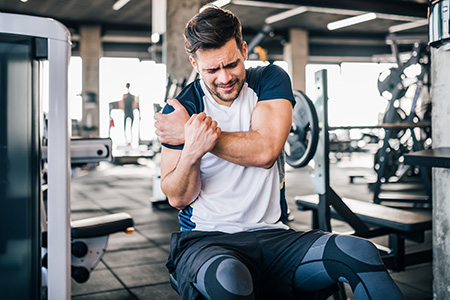 Pain causes you to lose a little bit of yourself. Every plan, activity, and daily necessity revolve around your pain. And it's hard to find a compassionate doctor who will actually treat the source of your pain instead of just prescribing a pill.
Don't lose yourself and become your pain when you still have a life to live, and don't give up on finding the right pain management specialists. You were led to this page for a reason.
If you live your day-to-day planning around how your body will feel every second, it's time to seek relief.
At One Agora Integrative Health in Bloomington, MN, we help uncover the source of your pain and then put forth a holistic treatment plan to get you back to an optimal state of health. We utilize holistic treatment modalities to treat the whole person, not just a symptom. Our whole-body approach to medicine is why we are Minnesota's leading pain management clinic.
If you are ready to find relief for your pain, it's time to work with a top pain management specialist at One Agora Integrative Health in Bloomington, MN. We offer hope to those who have struggled to find pain relief.
To schedule your first consultation, please call (952) 234-5898 or contact us online.
Benefits of Pain Management
At One Agora Integrative Health, we understand how debilitating chronic pain can be and the negative toll it can take on your body, mind, and spirit.
When you work with one of our pain specialists at One Agora, we will take a deep dive into why you are experiencing pain. Our holistic treatment options are innovative with state-of-the-art medical technology and provide high success rates for our Bloomington patients.
If you have tried other doctors or alternative healing therapies in the past but are still dealing with uncomfortable aches and pains, you will significantly benefit from our pain management therapies at One Agora Integrative Health.
Non-invasive
Zero downtime
Cost-effective
Quick and painless treatment options
Fast recovery time and long-lasting results
Holistic whole-body approach
No pills
Accelerated healing
Naturally restore mobility
Pain relief designed to aid the body's natural healing mechanisms
What do we treat?
Whether you have experienced an injury or are dealing with chronic musculoskeletal issues, we treat just about any pain condition. Our team of highly trained professionals is experienced in advanced pain management treatments and has successfully treated many patients in the Bloomington area.
Do you have?
Neck, shoulder, legs, wrist, knees, or back pain
Strained muscles or overuse injuries
Foot pain such as plantar fasciitis or Achilles tendinopathy
Joint pain
Stiffness or other soft tissue injuries
Stress fractures
Shin Splints
Sports Injuries
Arthritis
TMJ
Are you dealing with any of the above conditions? Are you tired of being prescribed pain medication and ready for deep healing?
Call us today and speak with a pain management specialist to discover if we have the right treatment option for you.
Please call (952) 234-5898 or contact us online to schedule your first consultation.
Pain Management Treatment Options
At One Agora Integrative Health, we proudly offer some of the most advanced holistic healing therapies in alternative health. We promise to always provide you with the best possible options for your specific health condition.
After a complete consultation to better understand the source of your pain, we will recommend one or more of the following pain management healing treatments.
After years of treating patients for sports injuries and chronic pain, we have found the above treatment options to be the best available in pain management. Our proven therapies accelerate healing at the cellular level for a fast and easy recovery.
We do not mask your pain. We treat the root cause of it so you can truly experience deep healing for an improved life.
Request Your Pain Management Consultation Today!
Can you imagine what it would feel like to wake up without pain? Or, go through your day without thinking about or making special arrangements just because your body can't handle all the activities or daily chores?
It's time for you to experience the joy of living a pain-free life again. We know you will excel at our pain management clinic, and we are ready to help you heal.
Please call (952) 234-5898 or contact us online to schedule your first consultation.
ll (952) 234-5898 or contact us online.
---
Our Location
One Agora Integrative Health Clinic
9220 James Ave S.
Bloomington, MN 55431
Phone: (952) 234-5898
Integrative medicine clinic serving patients in Minneapolis, Bloomington, Richfield, Edina, Eden Prairie and the surrounding Hennepin County, Minnesota communities.